Create your career
AVANTGARDE Experts is a leading HR services provider, arranging placements for experts in the fields of marketing and digital, industry, IT and administration. To set new standards with one eye on the recruitment of the future, we are always looking for perfect matches to join our team.
With us, you can make a flying start in recruiting, sales or another specialist department. Whether you are still a student, considering a career change, have some work experience or you are looking for a managerial position, we can open up myriad career paths with real prospects.
Looking for a job that offers:
ample scope and room for manoeuvre?
excellent development prospects?
pleasant colleagues and simple lines of communication?
BE PART OF THE AVANTGARDE EXPERTS TEAM!
Simply visit our internal job portal (in Germany only) or send us a speculative application. We look forward to hearing from you!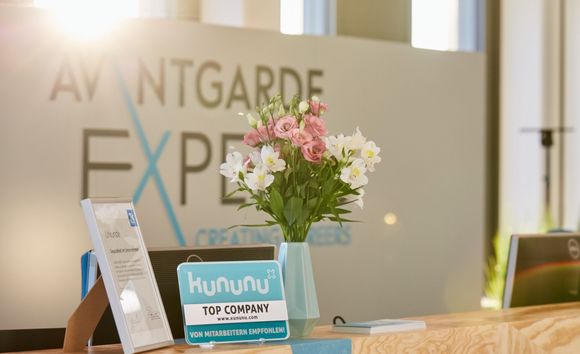 Our application process
Send your full application papers to hr@avantgarde-experts.de.
After receiving your application, we will get back to you within 7 days.
In the next step, we conduct an initial telephone interview to break the ice.
We then get to know more about you in two face-to-face meetings.
Once you have passed your interviews, it's time to welcome you to the team!
Our internal vacancies (in German only)
Can't find the ideal job?
We welcome speculative applications at any time. Who knows? Perhaps your ideal job is in the pipeline, or you are just the person we will be needing soon.